YOU'RE NOT TRAINING FOR AVERAGE RESULTS

SO DON'T USE AVERAGE SUPPLEMENTS
There is no magic pill to achieve the results you seek. Only missing pieces to the puzzle.
Beachbody Performance
are those missing pieces.
You've got to train hard if you want the best results. The Performance Stack helps you take advantage of every minute—before and after your workout—to help you push harder and recover faster. You get the quality ingredients you need to dial-in your focus, finish strong, minimize exercise-induced muscle soreness, and rev up your results from any fitness program.*
30-DAY
MONEY-BACK GUARANTEE
Beachbody Performance supplements are guaranteed to give you the competitive edge you're looking for. So try them for 30 days. If you don't experience better energy, stamina, strength, focus, and recovery, simply send them back within 30 days for a full refund of the purchase price (less s&h), no questions asked. No risk, all reward, guaranteed. TESTED BY
NSF INTERNATIONAL
As an independent, accredited organization, NSF International tests and certifies products. The NSF Certified for Sport® marking assures your Beachbody Performance products have been thoroughly tested for quality.
What does this mean to you?
This means you can be confident that Beachbody Performance supplements have been rigorously tested to meet NSF's strict banned substance standards when taken at the recommended serving size. Beachbody went through this rigorous certification process to meet the growing demand of athletes, coaches and all those concerned about banned substances in professional and amateur sports. Learn More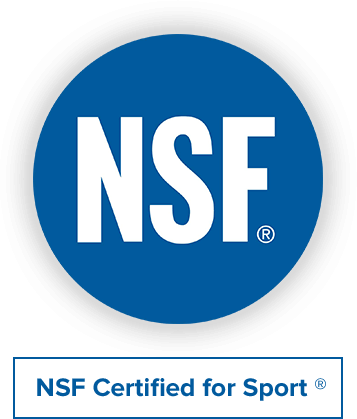 *These statements have not been evaluated by the Food and Drug Administration. This product is not intended to diagnose, treat, cure, or prevent any disease.
Consult your physician and follow all safety instructions before beginning any exercise program or nutrition plan, or using any supplement or meal replacement product, especially if you are pregnant, breastfeeding, have any medical condition, or are taking any medication.
IRONMAN® and the "M-Dot" logo are registered trademarks of the World Triathlon Corporation. Used herin by permission