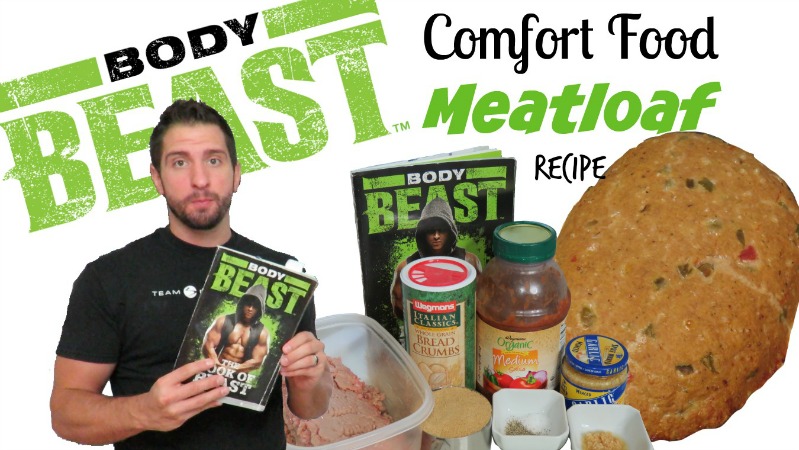 I'm here to share with you some of my most favorite healthy recipes to make your weight loss, your fitness goals more achievable and more delicious also because let's face it, eating healthy, finding ways to make foods we loved growing up healthy as adults is a bit of a challenge and if we fall into this trap of finding the quick and easy solutions of fast food, of prepared food, eating out of a box, eating a lot of processed foods.
I want to show you how to make one of my most favorite beloved comfort foods and I got this recipe from the Body Beast Cookbook. It's an awesome book. There's just tons of amazing recipes in here. We're going to do meatloaf. We're going to do meatloaf and mashed cauliflower, very similar to when you were a kid growing up. Your mom would make that comfort food meatloaf and mashed potatoes. We're just going to change a couple ingredients, make this thing healthy, make this thing taste amazing.
So what you're going to need is you're going to need 2 pounds of ground turkey, 1 cup of all natural mild salsa, I'm using medium salsa, organic, a cup of whole wheat breadcrumbs, 2 large eggs all lightly beaten, 3 cloves of garlic finely chopped, a teaspoon of sea salt, some fresh ground pepper and…
Okay, so what you're going to need is you're going to need a large mixing bowl. You're going to take your two eggs, just crack them, then you're going to want to break up the eggs, and then you want to add your ground turkey, 2 pounds of ground turkey, a cup of whole wheat breadcrumbs, 3 cloves of minced garlic, teaspoon of sea salt, and some fresh ground pepper, and then the last ingredient, my favorite, I use the medium organic salsa from my local grocery store, a cup of that pretty healthy dose, pour that in.
The best way to mix this is with your hands. So just get right in there and start mixing that all together. You're going to need:
– a 13x9x2 inch cooking pan
– spray that with some extra virgin olive oil cooking spray
– Place your Meat into the pan and form into a meat loaf
– Bake at 375 degrees for about 60 to 70 minutes uncovered until it's no longer pink in the middle.
– Let rest for 10 minutes after you take the meatloaf out of the oven
Mashed Cauliflower Recipe:
Start prepping for your mashed cauliflower.
The recipe calls for a whole head so you will need:
– one head of cauliflower,
– 1-and-a-half cups of milk
– 1 tablespoon of unsalted butter
With about 10 minutes left in your meatloaf I'll put on the water to boil. When I pull the meatloaf out, I'll add the cauliflower to the water because you want to have the meatloaf rest for about 10 minutes before serving it.
When the water is boiling:
– Add cauliflower to the medium saucepan
– You want to boil that for 6 minutes.
– Use a fork to test the softness of it.
– when it's soft, strain the water
In the same saucepan:
– Add the almond milk and butter
– Add the cauliflower
– Start to mash the cauliflower
How to make Zucchini Fires
\
So that was the Body Beast Power Turkey Meatloaf. I hope you enjoyed this recipe. I want to hear from you. Leave your comments below. Did you make this recipe? What did your family think of it? Did they like it? Did they love it? I want to hear from you.