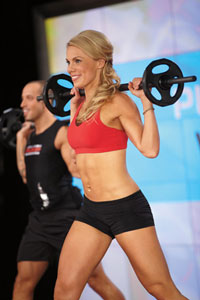 LES MILLS PUMP
Beachbody has partnered with Les Mills to bring this exciting new home workout DVD program called Les Mills PUMP.
Les Mills Pump got it's start in classes in clubs all over the U.S. While they are still growing their club business, we know there is a huge demand for in-home workouts that are guaranteed to get you the results that you want.
The LES MILLS PUMP is a home fitness workout program that will include 12 workouts based on BODYPUMP® and other Les Mills workouts. Not everybody has the time to drive to the club to get their workout in, so we are doing what Beachbody does best. We will bring you the best workout in its class to you on DVD. Get fit on your schedule.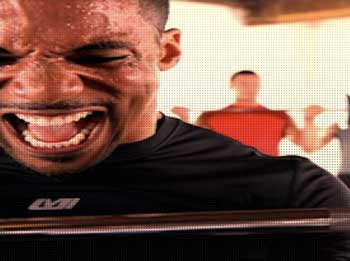 What Is Les Mills PUMP® workout?
BODYPUMP™ is the original barbell class created by Les Mills that tones, shapes and strengthens your whole body. We call is "Pump" for short. Pump will bring 60-minute workout challenges that hit all major muscle groups. Pump is created around a weighted barbell to move through the most effective weight room exercises. High rep, high intensity. Think Squats, shoulder presses, lifts and bicep curls. The key component of PUMP is called "The Rep Effect". The rep effect is muscle crushing training technique that focuses on high repetition movements with low weight loads. This training method creates muscles that are stronger and more powerful while staying lean. Think of my favorite athlete and motivator, Bruce Lee. Lean and mean! The workout is fueled by high intensity music to pump you up for max effort and max results, fast. In a normal 60 minute PUMP™ class you'll crank out 70-100 repetitions for each muscle group. That which equals about 800 reps in one workout. Push hard and you can burn 1000 calories per workout.
The Les Mills Pump DVD workouts will be led by an all-star team of Les Mills Program Directors and Master Trainers to really push you physically and mentally while making it fun.
The Pump workout is a strength building, 60 minute workout in your living room. Pump will tone your body and push you to the limit every time. Les Mills Pump workouts have been battle tested in the 14,000 fitness clubs to 6 million people a week and have proven to be incredibly effective at getting people fit, fast. Now you can get the same killer workout in your home.
Here are the moves that you will be doing during the workout:
Squats
Chest press
Deadrow
Clean and Press
Press pullover combo
Lunges
Reverse curl
Time tested moves that are organized in a specific sequence and using the Rep Effect to get optimal results.
What comes with the Les Mills Pump Workout package?
7 DVDs
2 Sets of Weights
Barbell
Safety Clips
Fitness Guide
Nutrition Guide
There will also be a Deluxe kit available that has 3 additional cardio workouts designed specifically to complement your strength training, and a height-adjustable Step that you can use as a weight bench, cardio-conditioning tool, and targeted sculpting platform. The Deluxe kit also includes extra weight plates so you can lift heavier weights as you get stronger.
If you want six pack abs, lean legs, sculpted arms, and tight buns, then LES MILLS PUMP is for you!
Les Mills Pump will go on sale soon. Sign up for a Free Beachbody account and I'll email you as soon as it drops.
Les Mills PUMP is sold as a home workout only. These DVDs are not to be used in clubs or other facilities.