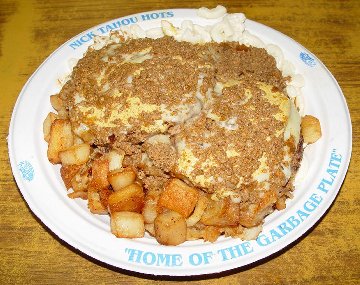 Being a Beachbody Coach and growing up and living in Rochester has been interesting.  By far the most frequent question that I get asked when I am discussing a Beachbody workout program with a fellow Rochestarian is "Can I still eat Garbage Plates?"  I honestly still have not come up with a good answer to this question.
The answer is not a 100% no but I would ask clearly how often the individual eats a Garbage Plate and more importantly what the rest of their diet looks like.  The reason being is because during my Power 90 transformation where I lost 31 lbs in 90 days, I still consumed a Garbage Plat at least once a week and this was before subscribing to the Cheat Meal philosophy discussed in The Abs Diet.
For those of you who do not know the Garbage plate is a Rochester classic and was created at Nick Tahou Hots.  The traditional plate consists of Macaroni Salad, Home Fries, two open face cheeseburgers, meat hot sauce, mustard and onions.  Restaurants all over the city of Rochester and her suburbs now serve many variations (fries, baked beans, steak, eggs, veggie) and imitation of the Garbage Plate Combo with names like Dumpster Plate, Messy Plate, Trash Plate, and Sloppy Plate.
What's the nutritional information of the Garbage Plate? There are roughly 2,500 to 3,000 calories in one Garbage plate and according to this site about the Henrietta Hots Garbage Plate, it contains 3,539 calories, 203g of fat, 283g of Carbohydrates, and 187g of protein.  There is one restaurant in Rochester who serves this monster in wrap form.  When I was doing my student teaching for physical education, all the male High School Phys Ed Teachers would eat this every Friday for lunch and they were definitely not models for proper health and nutrition.  I'll leave this topic for another blog.
Now you may say to me "But you ate a garbage plate during your Power 90 transformation. Are you being a hypocrite?"  No because I was 25 at the time and since then I will roughly eat a maximum of 1 to 2 Garbage plates a year and that is being generous.  The Garbage Plate is not a staple of my lunch or dinner menu.  I would have to be completely wasted and out of my mind to consume one and that's were the 1 or 2 plates a year come into play.
If you are familiar with the Travel Channels show, Man vs Food, host Adam Richman travels the country and looks to compete against the most ridiculous (and unhealthy) food challenges across the country.  Well, tonight airs the episode where Adam found his way to Rochester.  The main challenge is at Sticky Lips BBQ but if you are unfamiliar with the show, Adam stops on local eatery's before taking on the main event challenge.  Of course he stops in Nick Tahous Hots to learn about the every popular, every famous, ever heart and artery clogging garbage plate.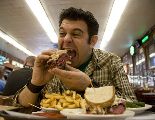 The "Man vs. Food Nation" episode filmed at Sticky Lips in Rochester will air on October 19 at 9 p.m.
The show, hosted by Adam Richman, is a big hit on the Travel Channel. It features Richman across the country, visiting local restaurants and then taking on a challenge at one of the restaurants.
The October 19 show will be a NASCAR episode. Richman will coach professional race car driver Joey Logano through a food competition of his own following the big race at Watkins Glen International.
Logano will take on the "Atomic Bomb Challenge" at Sticky Lips which includes a three-pound bacon double cheeseburger loaded with pulled pork and meaty hot sauce over an additional pound of fries.
Richamn will then go to Campi's to try a taste of a meat sauce drenched sub sandwich called a steak bomber. The sandwich includes slice steak, onions, mushrooms, assorted peppers, provolone cheese and Rochester's signature condiment — spicy ground beef hot sauce.
Richman then will make a pit stop at the legendary late night eatery, Nick Tahou's, where he will sink his teeth into a garbage plate that includes baked beans, macaroni salad, home fries, and is topped with hot dogs, cheeseburgers and famous hot sauce.